In eAktiebok you and other shareholders always have access to an updated and clearly presented shareholder list. The shareholder list is based on the company's share register, but has an advantage over the share register in that it clearly shows all the shareholders' total holdings in the company. Regardless of how many shareholdings and shares a shareholder has, the shareholder's total earnings are shown.
Clear shareholder list
In the shareholder list you will find information such as the name of the shareholders with contact information such as address and phone number. Also shown is each shareholder's number of owned A and B shares, total number of owned shares, shareholdings* and voting rights**. Of course you can also sort the list however you want in eAktiebok's shareholder list, and easily save or print the list of shareholders.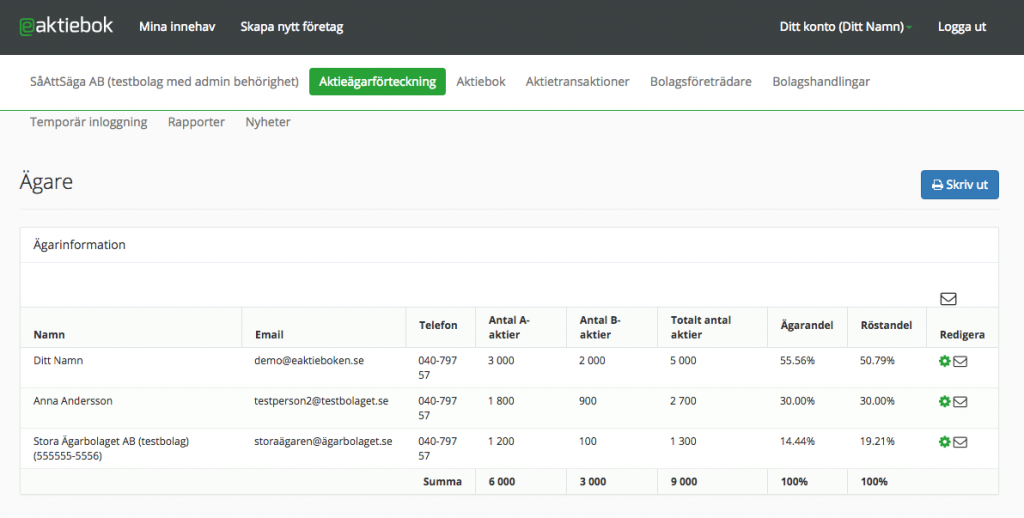 What is a shareholder list
A shareholder list is largely the same thing as a voting list (which you can of course also easily get through eAktiebok) for the Annual General Meeting with the difference that all shares and owners are always represented in the shareholder list. The voting list is only presented at the meeting in the spirit of fun. Another difference is that in the voting list a shareholder's voting rights are presented while in the shareholder list often only a shareholder's shareholdings are shown (also called equity).
The shareholder list can also be described as the company share register in aggregate format but without any legal requirements in terms of its design. Each shareholder's total holdings are presented together, unlike the share register where an owner can have several different shareholdings. The share register also contains more detailed information about the shareholders and shares than the shareholder list.
Only the shareholders and functionaries see the shareholder list
Just as with all other information with eAktiebok the shareholder list is only available to the company's functionaries and shareholders. The information is available around the clock and you can access it easily by logging in to the free custody account that all shareholders get after their company is registered with E-Aktiebok.
*Shareholdings – Number of owned shares through total number of shares in the company
**Voting rights – The number of votes associated with owned shares through a total number of votes in the company.